Single: $58 ~ Double: $60

A mixture of colonial Guatemala and modern creature comforts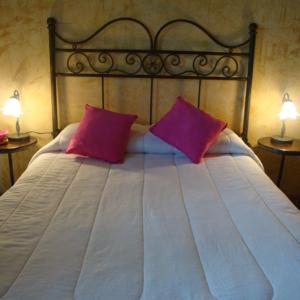 About Us:
Hostal Las Marias is located in a quiet area of the city of Antigua Guatemala, away from downtown's busy environment but a few steps from the biggest attractions.
The hostel is decorated in a rustic colonial style with handmade furniture, wrought iron headboards and the high roofs typical of Spanish architecture.
Facilities & Services:
The hotel offers:
Private Bathrooms
Hot Water
Breakfast Included
Cable TV
Wireless Internet (in the social areas)
Parking Area
Hair Dryer (upon request)
Iron And Iron Board
Spanish Teacher (by appointment)
Rates:
Sgl. 2 twin beds: $58.00
Dbl. 2 twin beds: $60.00
Sgl. Queen bed: $60.00
Dbl. Queen bed: $65.00
Suite: $80.00
Apartment: $85.00 & $100.00
Price are in US$. They include taxes and breakfast.
Prices are subject to change. They will increase Christmas, Easter and high season. Contact us for more information.
Of Special Note:
"The hotel was everything as advertised and more…Excellent breakfast, room, and courtyard. Secure parking and location convenient to center of town. Everyone was very friendly and was well worth the money." ...a satisfied customer
Where we are:
Lotificacion Las Jacarandas,
Calle San Bartolome Becerra 7
Antigua, Guatemala
We can also arrange door-to-door shuttle service between Hostal las Marias and the airport (GUA), Panajachel, or anywhere in Guatemala.