Single: $40 & $48 ~ Double: $50 & $58

A great option for the budget traveler in downtown Antigua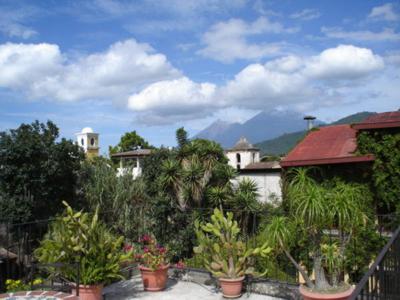 About Us:
Hotel Casa Rustica is a budget hotel or hostel with many options, all of them to make your stay pleasant, comfortable ...and affordable.
There a small cafe, a Guatemalan handcrafts shop, a travel agency, an internet cafe and a spacious commons area.
Facilities & Services:
All rooms have:
Shared or private bath
Hot water
Cable TV
High speed WiFi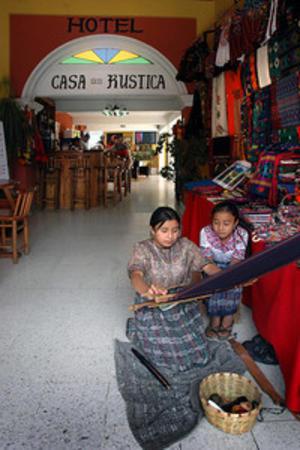 With your stay comes:
Two large gardens.
Three large terraces with spectacular views
Large fully equipped shared kitchen
Landry room
For an addition $5.00 you can use the pool and sauna
Billiards table
Rates:
Sgl. private bath: $40.00 & $48.00
Sgl. shared bath: $32.00 & $38.00
Dbl. private bath: $50.00 & $58.00
Dbl. shared bath: $40.00 & $48.00
Trpl. private bath: $60.00 & $70.00
Trpl. shared bath: $45.00 & $55.00
Quad. private bath: $70.00 & $80.00
Quad. shared bath: $49.00 & $60.00
Above are both weekday and weekend prices: Sun-Thru & Fri-Sat.
Price are in US$. They include taxes.
Group rates are available. There are also apartments for weekly or monthly rental.
Prices are subject to change. They will increase Christmas, Easter and high season. Contact us for more information.
Of Special Note:
The hotel is pet friendly, in fact three large but very friendly dogs (Lucky, Laverne & Shirley) share the premises.
Where we are:
Ideally located, just one block west of the Central Plaza or about a one minute walk.
6a Avenida Norte #8
La Antigua, Guatemala
We can also arrange door-to-door shuttle service between Hotel Casa Rustica and the airport (GUA), Panajachel, or anywhere in Guatemala.