Single: $50 ~ Double: $60

Just two blocks from the Central Plaza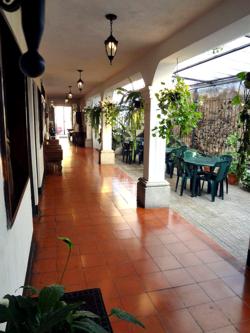 About Us:
You will find Hotel Posada Doña Luisa in a secure and tranquil area, just two blocks from Antigua's beautiful Central Plaza. There are and number of old churches and museums close by, plus the Guatemala handicraft market is three blocks from the hotel.
Facilities & Services:
All rooms have:
Private bath
Hot water
Cable TV
High speed WiFi
With your stay comes:
Shared kitchen
Laundry room
For an addition $5.00 you can use the pool and sauna
Rates:
Single: $50.00
Double: $60.00
Triple: $70.00
Quadruple: $80.00
Quintuple: $90.00
Price are in US$. They include taxes.
Prices are subject to change. They will increase Christmas and Easter.
Of Special Note:
Where we are:
Coming from Guatemala City, as you enter Antigua via 3rd Calle, go eight blocks and turn left on 6th Ave, after 2 blocks turn right on 5th Calle and on the next block turn right on 7th Ave.
7a Avenida Norte #4
La Antigua, Guatemala
We can also arrange door-to-door shuttle service between Hotel Posada Doña Luisa and the airport (GUA), Panajachel, or anywhere in Guatemala.