Single & Double: $189

A beautifully restored Spanish Baroque mansion built in 1541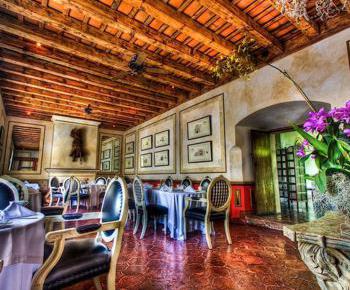 About Us:
Built between 1541 and 1543 for Doña Leonor, the daughter of Pedro de Alvarado and a Tlaxcalan Indian Princess, Hotel Palacio de Doña Leonor has been lovingly restored to it's initial glory.
Facilities & Services:
Complimentary WiFi Internet
Maid Service & Nightly Turndown
Palacio Restaurant
Pool & Jacuzzi Spa
Unpacking Service
Room service until 10:00pm
Wake up calls
Medical on call
Rates:
Single: $189.00
Double: $189.00
Junior Suite: $298.90
Master Suite: $366.00
Price are in US$. They include taxes.
Prices are subject to change. They will increase Christmas and Easter.
Of Special Note:
Over the centuries the hotel has hosted a lot of history. Besides Pedro de Alvarado, many of the Spanish conquistadors stayed in the Palacio.
Where we are:
The hotel is around the corner from the Cathedral, The Central Plaza and many of Antigua's oldest buildings.
4ta. Calle Oriente #8
La Antigua, Guatemala
We can also arrange door-to-door shuttle service between El Palacio de Doña Leonor and the airport (GUA), Panajachel, or anywhere in Guatemala.