Single & Double: $122

One Antigua's first Luxury Boutique Hotels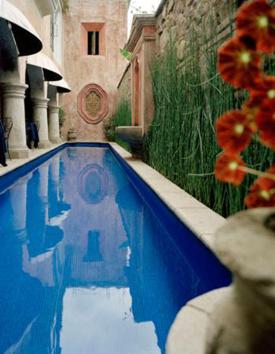 About Us:
Meson Panza Verde was established in 1986 as one of the first European style bed and breakfasts in Antigua, Guatemala. Ideally located at the quiet end of famous Fifth Avenue, it is a pleasant four block walk from Antigua's main Plaza and Cathedral down a cobble stone street past wonderful ruins and delightful shops.
Facilities & Services:
Our inn has nine lovely suites and three double rooms. Just beyond the entrance, there is an inviting central garden and fountain surrounded by a veranda that is quintessential Antigua. Our restaurant is considered one of the finest in the country.
Our expansive rooftop terrace makes an ideal setting for a cocktail party or reception. Surrounded by views of Antigua's tiled rooftops, domed copulas and towering volcanoes, the space is stunning during the day or at sunset. Combined with Galleria Panza Verde, our famous in-house art gallery, it can also provide a perfect space for small conferences and other special events.
Rates:
Single: $122.00
Double: $122.00
Junior Suite: $202.00
Master Suite: $232.00
Grand Suite: $305.00
Price are in US$. They include taxes.
Prices are subject to change. They will increase Christmas and Easter.
Of Special Note:
People often ask about our name. Panza Verde is what generations of Antigueños have called themselves. No one is quite certain of the full story, but it is said that the people who remained living here after the Capital was moved to Guatemala City were so poor that they had to subsist on avocados. Being a Panza Verde is mentioned with great pride, and we are proud to use the name.
Where we are:
5a Av. Sur # 19
Antigua, Guatemala
We can also arrange door-to-door shuttle service between Mesón Panza Verde and the airport (GUA), Panajachel, or anywhere in Guatemala.